Differences Between a Chassis Cab Truck & Pickup Truck | Matteson, IL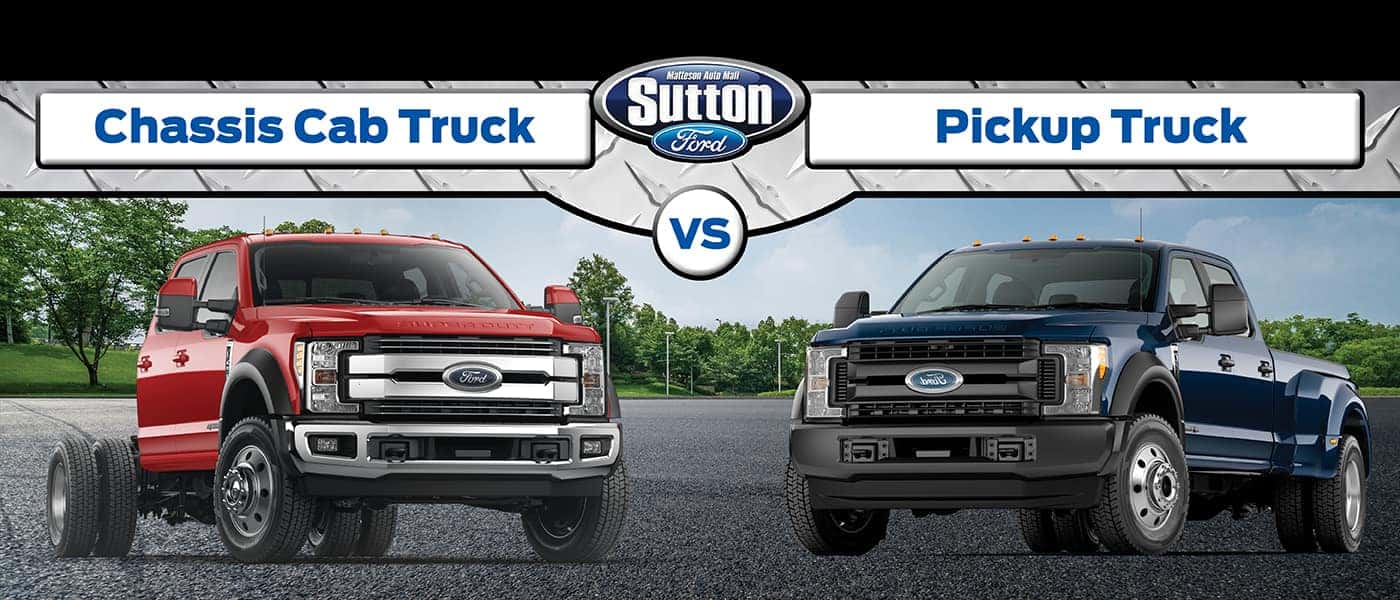 If you're in the market for a heavy-duty truck, you've likely come across the decision of chassis cab truck vs. pickup truck. Choosing between these two truck types involves many different variables, making it quite involved. To give you a better understanding of the difference between the two, our Sutton Ford Commercial and Fleet experts crafted a full comparison, analyzing frame rails, equipment, engine, payload, towing, fuel capacity, GAWR, and GVWR of each truck type.
After you've read through our full breakdown, head over to our Matteson, IL, dealership inventory and offers to peruse our full truck collection. If you need to speak directly to a Sutton Ford team member, call (708) 720-8350 or message us online.
Engine Power
One of the biggest deciding factors for any truck buyer is engine power and displacement. When comparing chassis cab and pickup trucks, the former almost always provides lower power ratings than the latter. This trend is largely centered around chassis cabs being a commercial truck, which are valued for longevity. Less power puts less stress on the drivetrain, giving chassis cabs a longer overall lifespan.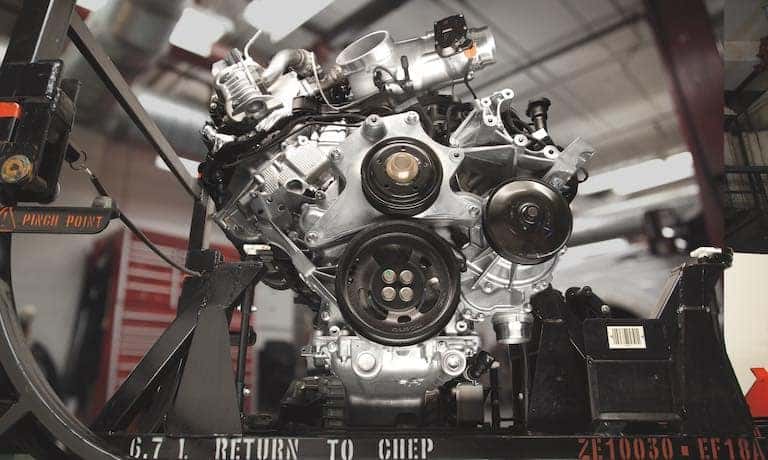 Payload Capacity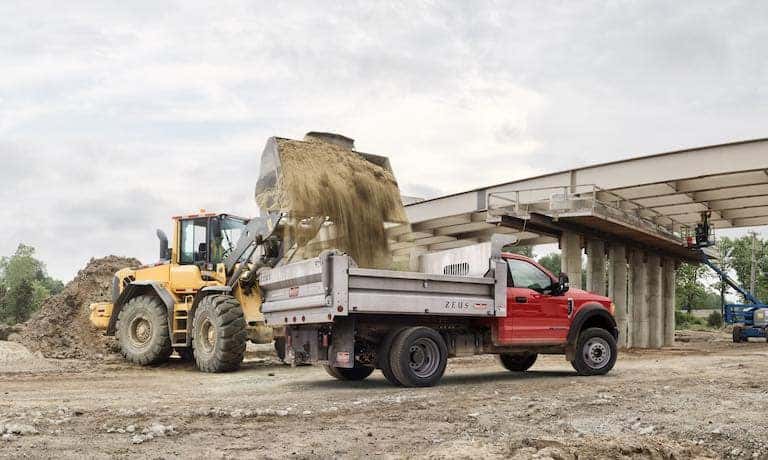 If you require a high payload capacity, a chassis cab truck is your best bet. Since these trucks are almost exclusively used as commercial vehicles, they are built with upfitting in mind. Chassis cabs are inherently designed to carry heavier loads over the rear axle, making them ideal for large payloads.
Towing Capacity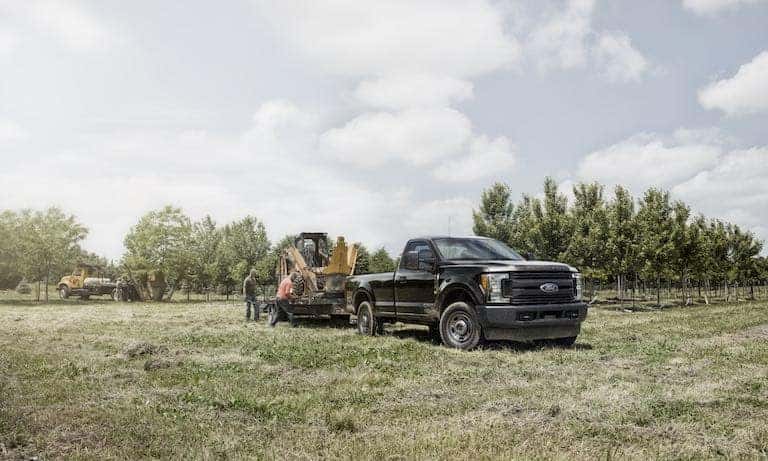 Conversely, pickup trucks lend themselves to higher towing capacities. As stated above, pickup truck models offer stronger engine performance when compared to the more economical chassis cabs. This means pickup trucks will most likely offer larger towing capacities.
Fuel Capacity
Chassis cab trucks are usually equipped with comparatively large fuel tank capacities. While this isn't always true, you will be hard pressed to find a pickup truck with a 50-gallon fuel tank, but you can certainly find a chassis cab model with one.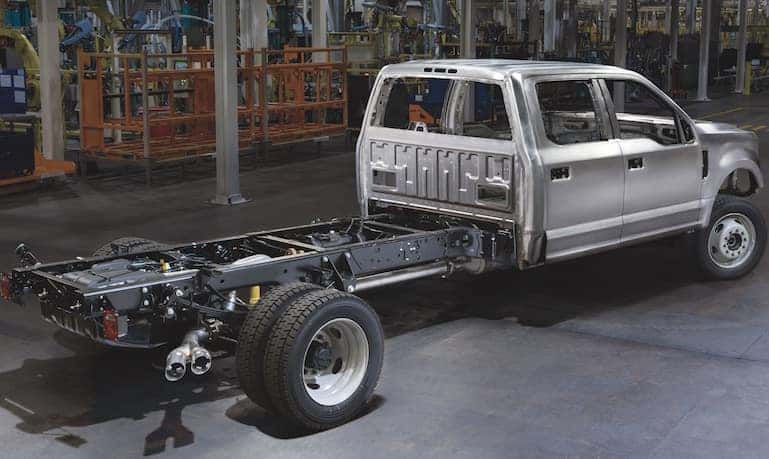 Frame Rails
Frame rails are another big difference between chassis cab and pickup trucks. The variation between the two largely lies in the upfitting needs of chassis cab models. Pickup trucks tend to have curved frame rails extending rearwards from the cabin, helping improve ride quality and distributing the weight of the vehicle more evenly. Chassis cabs typically sport straight frame rails, with homogeneous sizing that fits within upfitting standards.
Spring Rate
When comparing the springs of pickup and chassis cab trucks, you will find stark differences. As previously stated, chassis cabs are designed to maximize payload capacity, offering significantly stronger front and rear suspensions coupled with industrial-grade leaf springs. On the other hand, pickup trucks are built to be more driver friendly, with adaptability and ride quality holding more importance. As such, the suspension systems of a pickup are considerably smaller and more flexible.
GAWR & GVWR
The last major point of contention between chassis cabs and pickups is the GAWR (Gross Axle Weight Rating) and the GVWR (Gross Vehicle Weight Rating). As you can surely gather, a chassis cab sports a much larger rear axle than a pickup in order to support oversized payloads for commercial needs, meaning a higher GAWR. Additionally, chassis cabs typically offer a higher overall GVWR in order to accommodate heavier payloads.
Chassis Cab & Pickup Trucks for Sale near Chicago, IL

Have you decided on which truck type is right for you? If so, click over to our Matteson, IL, dealership inventory and offers pages to find your preferred model. For any further questions, please get in touch with a Sutton Ford Commercial and Fleet team member through our online form or by calling (708) 720-8350.